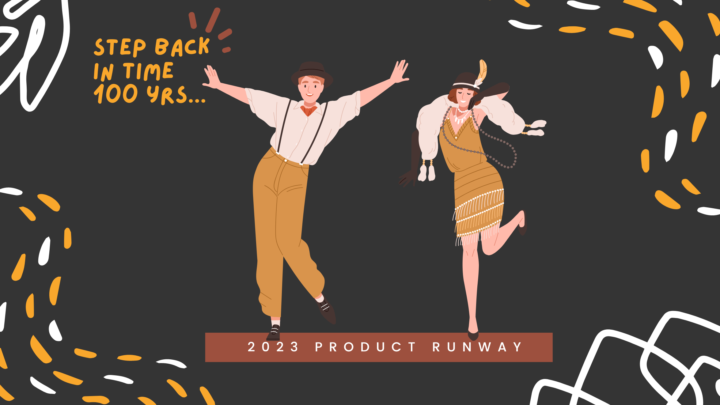 Product Runway Team Registration
Description
DESIGN TEAMS
Design teams will consist of a maximum of seven (8) participants. All teams must contain: one (1) ASID member (aka- Team Captain) – Practitioner, Allied, Associate, or Student, one (2) Garment Label Sponsors (random pairing of 1 Hard and 1 Soft goods sponsor), up to five (5) team members of your choosing (firm employees, associates, clients, etc). One (1) of the team members will be the model for the runway show. Each team is free to select their own participants, but the planning committee can also help with connections, if needed, to fill one or more of the required positions. Each team member will be provided one (1) complimentary general admission ticket to the event. A maximum of ten (10) teams may participate in this year's ASID South Central Chapter's Product Runway.
DESIGN TEAM REGISTRATION FEE: $100

DESIGN TEAM REGISTRATION OPENS: FRIDAY, JUNE 1a6th

DEADLINE TO REGISTER A TEAM: FRIDAY, JULY 7th

VIRTUAL PAIRING EVENT: FRIDAY, JULY 12th (Time TBD)
Design teams will be randomly paired with one HARD GOOD and one SOFT GOOD Garment Label Sponsor. The final garment must contain a minimum of 80% of materials (mix of hard and soft goods) supplied by the Garment Label Sponsors. The remaining 20% can be additional materials, decided upon by the design team, as needed. Teams also have the option to modify the color of their materials by method of paint, dying, etc. The design teams may 'self-fund' up to $100 to purchase supplemental materials: closures, accessories, thread, etc. All garments must be designed and made by the participating design team members; no outsourcing is allowed.
In addition to designing/creating a garment, each team is required to create a supporting small item/prop for the garment. This item needs to stand alone without the garment and must contain at least 50% of materials (mix of hard and soft goods) supplied by the Garment Label Sponsors. At the end of the runway show, these items/props will be auctioned off as a fundraiser for the selected local charities.
A virtual PAIRING EVENT will take place on July 7th (time TBD) to establish each team's theme and to pair each team with a HARD and SOFT sponsor. Each Design Team and Garment Label Sponsor must have a representative present.
Via computer program, teams will be randomly assigned a placement (1-10) for selection of one of the 10 themes. In order, teams will select their theme to use as their basis of design. Each theme will only be used ONCE.

Via computer programs, teams will be randomly paired with a hard goods and a soft goods sponsor.
Teams are required to submit a digital portfolio and a digital poster that will be on display at the runway event. Teams will be provided with templates that must be used for consistency of presentations. Portfolios/Posters will include…
The team's name, team's theme, and the names/professions of all team members

A list of the Garment Label Sponsors; including the company and rep's names and company logos

A design statement that is a concise summary of the team's overall concept (4 sentence max)

A design concept that shares details about the team's theme research and how they decided to use this information to design their garment

A description of the garment and how it relates, interprets, and pays homage to the theme

Garment Illustrations + call outs to show how and where each garment labels' materials are used on the garment and the percentage of each material
Each team must select who will model the garment during the runway show, from their registered team members. The model's name must be submitted to the committee. If an escort or 2nd garment model is needed, a request must be made to the planning committee.
DEADLINE TO PROVIDE MODEL NAME AND REQUEST ESCORT: FRIDAY, JULY 28th

SEND MODEL'S NAME TO:

ASIDSCC.NWACommunication@gmail.com

Please include TEAM NAME in the subject line
Teams are responsible for choosing their own music and choreographing their performance. Creativity and showmanship during the performance is highly encouraged. Have fun!
Music must be clean, cut to 1 minute and 30 seconds, and provided to the planning committee for review.
Design teams will be made aware of the runway layout and lighting design a few weeks prior to the event. Each model's performance will have the same lighting sequence. No custom lighting requests are available.
No weapons, animals, children, or pyrotechnics will be permitted during a performance.
The stage must be free of debris, materials, and residue after each performance. Any item removed as part of the model's performance must be cleared immediately after removal, by a team member.
All garments must be complete and checked in at the venue between 9-10 AM on Friday, September 22nd for Garment Judging. Garments will be privately judged by a team of judges, selected by the planning committee.
Each garment will be judged on the following…
Uniqueness/Creativity of Garment Design
Use of Materials
Adherence to Theme + Design Concept
Craftsmanship/Construction of Garment
Each team's selected model will participate in the runway show on the evening of Friday, September 22nd and will be judged on the following…
Runway Performance: creativity, presence & showmanship
All scores will be combined, and the total score will be used to determine the following awards…
Best in Show
Second Place
Third Place
Best Performance
Most Innovative
Most Wearable
[Crowd Favorite]
A Dress Rehearsal will begin at 1 PM on the day of the event. All teams are required to participate. Completed hair and make-up are not required, but all pieces of the garment must be worn during this rehearsal. Models will run through their performance with music and lighting, at least once. If time allows, models may run through performances a 2nd time.
If you have any basic team/event questions or need additional information, please email… ASIDSCC.NWACommunication@gmail.com
IMPORTANT DATES FOR DESIGN TEAMS
JUNE 16th: DESIGN TEAM REGISTRATION OPENS

JUNE 28th: DESIGN TEAM REGISTRATION CLOSES

JUNE 30th: DESIGN TEAM AND GL SPONSORS' VIRTUAL PAIRING EVENT (TIME TBD)

JULY 28th: DEADLINE FOR TEAMS TO PROVIDE MODEL INFORMATION AND REQUEST APPROVAL FOR AN ESCORT OR 2nd MODEL

AUGUST 11th: DEADLINE FOR TEAMS TO PROVIDE PORTFOLIOS & POSTERS

AUGUST 25th: DEADLINE FOR TEAMS TO PROVIDE MUSIC FOR REVIEW

SEPTEMBER 22nd: 2023 PRODUCT RUNWAY!

GARMENT MUST BE CHECKED IN AT THE VENUE AT 10 AM

REQUIRED DRESS REHEARSAL BEGINS AT 1 PM

MODELS MUST BE BACKSTAGE BY 6 PM

MODELS MUST BE FULLY READY BY 7 PM